Advance Notice on Convening
CHINA TUNGSTEN EQUIPMENT INDUSTRY FORUM (CTEIF)
China Tungsten Industry Association (CTIA)
In order to implement "the Development Plan of China's Tungsten Industry of 2021-2025", learning the current situation and trend of equipment development in the tungsten industry at home and abroad, create an communication platform for equipment manufacturing, technology and users, promote innovation and coordinated development, and provide decision-making basis for equipment autonomy for relevant China's national ministries and commissions, CTIA plans to hold the "China Tungsten Equipment Industry Forum" (hereinafter referred to as the "CTEIF") in Xiamen in September every other year since 2022. The forum plan has been deliberated and adopted by the Standing Council (presidium meeting) of CTIA. The relevant matters are hereby notified in advance as follows.
Advanced Vacuum Pressure Sintering Furnace, Made in China
I. Main Contents of CTEIF
Interpretation of China's national industrial policies
Academic report of tungsten & processing equipments experts
Sharing & showing of achievements of related equipments enterprises
Meeting & negotiating between tungsten processing equipments' supply and demand
II. Organization of CTEIF
THE ORGANIZER
China Tungsten Industry Association (CTIA)
THE SPECIALLY INVITED CO-ORGANIZERS
Xiamen Tungsten Co., Ltd
China Tungsten and Hightech Materials Co., Ltd
Jiangxi Tungsten Holding Group Co., Ltd
THE CO-ORGANIZERS
ATTL Advanced Materials Co., Ltd.
Chongyi Zhangyuan Tungsten Co., Ltd
Ganzhou Grand Tungsten Co., Ltd
Rising Nonferrous Metals Share Co., Ltd
Guangdong Xianglu Tungsten Co., Ltd
Hunan Chenzhou Mining Co., Ltd
Hunan Shizhuyuan Nonferrous Metals Co., Ltd
China Molybdenum Co., Ltd
Zhuzhou Cemented Carbide Group Co., Ltd
Underground Automatic Mining Machine, Made in China
THE SPONSORS
The Organizer of CTEIF, CTIA is now soliciting and selecting 12 excellent tungsten industrial related equipment suppliers to be named " Sponsors ", and gives the opportunity and honor to make a thematic report on the development of advanced equipment of tungsten industry and introduce their own equipment characteristics at CTEIF. In addition, the " Sponsors " may promote and show its product, brand image and service concept on the forum hall, Conference Journal, Directory and related media, and have the opportunity to make two A4 page advertisements in "the List of Suppliers of Tungsten Industrial Equipment, Tools, Analysis & Detection Instruments". The sponsorship fee is RMB 50,000 Yuan per Chinese enterprise or USD10,000 per any others outside.
CTIA welcomes all global equipment enterprises to apply to the secretary of CTEIF. The organizer's experts will select about 12 excellent enterprises. The selection scope includes but is not limited to the following equipment categories: 1. Mining equipment; 2. Smelting equipment; 3. Tungsten equipment; 4. Mixture manufacturing equipment; 5. Molding equipment; 6. Sintering equipment; 7. Precision machining equipment; 8. Key equipment for mold manufacturing; 9. Precision detection and analysis equipment; 10. Coating equipment; 11. Packaging equipment; 12. Environmental protection equipment; 13. Automation and intelligent manufacturing (equipment and/or software); 14. Others related.
Xiamen, the Venue of CTEIF, the Famous Tungsten City, a Pretty Sea Garden. Huandao RD.
SPECIAL PERMISSION
Sponsors overseas and its fee, whether Chinese or not, need to contact the ORGANIZER of CTEIF in advance to obtain permission.
Costs of translation for international participants and their text, data and other information, written or interpreted, are not included in the above –mentioned fees.
THE UNDERTAKER
China Tungsten Online Manu. & Sales Corp.
Geological & Mining Branch of CTIA
Smelting Branch of CTIA
Tungsten Cemented Carbide Branch of CTIA
Tungsten Metal Materials Branch of CTIA
Tungsten Ferro Alloy Branch of CTIA
…… (the list is continuously updated)
Xiamen, the Venue of CTEIF, the Famous Tungsten City, a Pretty Sea Garden. Wuyuan Bay
III. RELATED MATTERS
1. List of Suppliers of Tungsten Industrial Equipment, Tools & Instruments
Compile and prepare the list of Suppliers of tungsten industrial equipment, tools, analysis and detection, instruments. Suppliers include but are not limited to the following categories of the list as below: 1. Mining; 2. Smelting; 3. Tungsten Processing; 4. Mixture Manufacturing; 5. Molding; 6. Sintering; 7. Precision Machining; 8. Mold Manufacturing; 9. Precision Detection, Analysis Equipment; 10. Coating (PVD, CVD); 11. Packaging; 12. Environmental Protection; 13. Automation, Intelligent Manu. (hardware and/or software); 14. Others related.
Suppliers shall provide designed A4 color page(s). The CTEIF conference affairs shall carry out overall planning and design, compile the list, and release it to the representatives and members of CTIA and the forum. As a procurement guidance for tungsten industry enterprises, it shall be recommended to all China's tungsten industry. The cost of the color page advertisement of the list is RMB5,000 Yuan or USD1,000 per page.
2. Compilation of the Proceedings of the CTEIF
CTIA will compile all reports of Sponsors and experts of CTEIF into a volume, made the journal and presented it to the delegates to record the development process of China's tungsten industrial equipment.
3. CTEIF Will Hold a Special Session of Supply & Demand Fair
Equipment suppliers and tungsten enterprises can sign up to hold a special supply and demand fair at the same time to hold new product press conferences, procurement bid invitation fairs, user appreciation activities, etc. It is necessary to communicate and plan with the preparatory group of the forum in advance.
Xiamen, the Venue of CTEIF, the Famous Tungsten City, a Pretty Sea Garden. Seaside Sunset
4. Location & Time of CTEIF
CTIEF Will be held in Xiamen every two years permanently
5. Contact to CTEIF
Please contact us if you have any interest and willingness to participate in CTIEF.
Mr.Yu: +86 13641015006
Mr.Song: +86 13592084158
Miss Zheng: +86 18459150902
Email Add: zhenghua@ctia.com.cn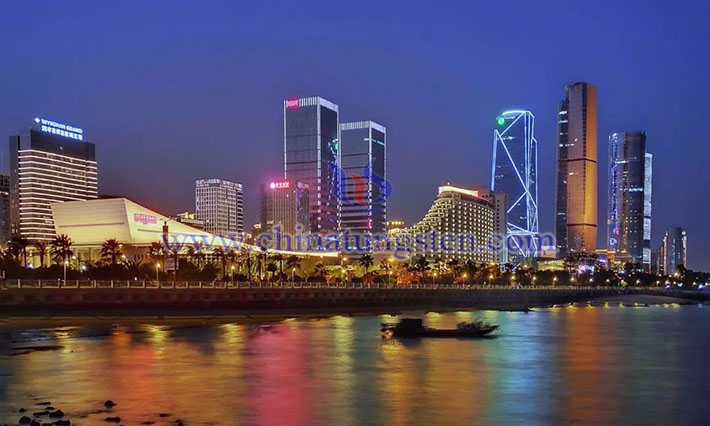 Xiamen, the Venue of CTEIF, the Famous Tungsten City, a Pretty Sea Garden. Eastern CBD
Xiamen is known as the South Gate of China. On the West Bank of the Taiwan Strait, Gulangyu Island, a world cultural heritage, is a name card of Xiamen famous all over the world. Xiamen Tungsten, China Tungsten Online and many other tungsten cemented carbide enterprises are located here, which also makes Xiamen a famous Tungsten City.